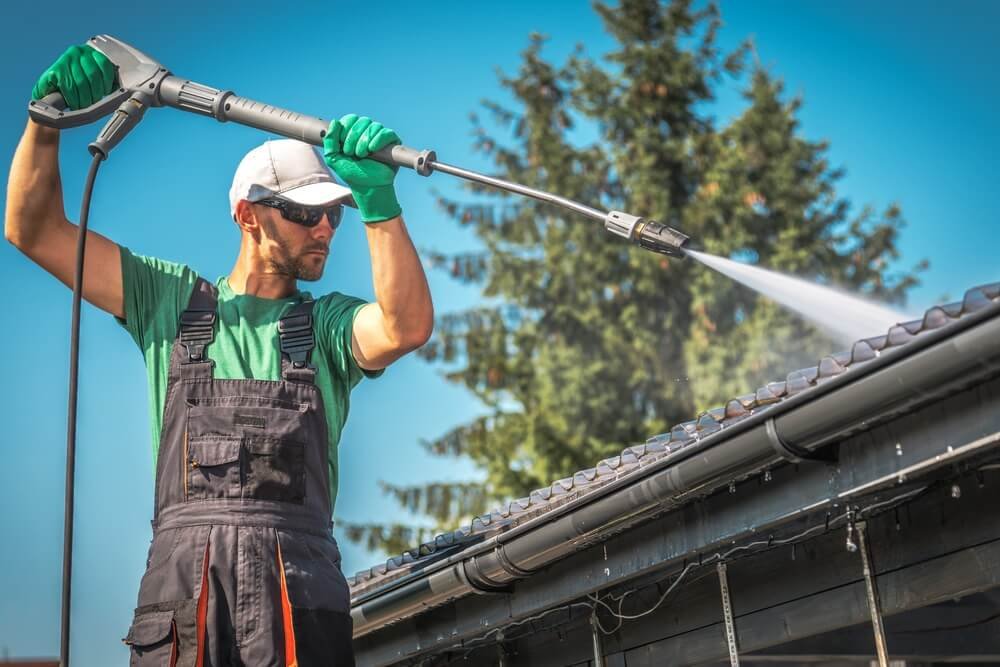 Can Pressure Washing A Roof Damage It?
Keeping your roof clean is important. How you clean your roof can make a big difference, according to Tampa Bay Pressure Washing Services, roof cleaning in Tampa. One common way of cleaning your roof is pressure washing it. A common concern is whether this can damage the roof. Before doing any home improvement tasks, you should do your research. This will ensure you protect your home and get the job done well.
So, can pressure washing a roof cause damage?
Pressure washing a roof can cause damage. Pressure washing will get your roof clean. It will look great when it is finished. The long-term damage is not worth it. Pressure washing causes a lot of damage. There are alternatives that work better and don't cause damage.
Asphalt shingles have granules. The granules protect your roof from many things. This includes rain, sun, and more. A pressure washer can strip those granules away from the shingles. Then, your roof will not be protected. This means you will be replacing your roof soon.
Also, pressure washing your roof may void the warranty. Then, if your roof is damaged, you will have to pay for it yourself. This is very important to keep in mind.
How often should you clean your roof? 
Roofs get leaves, dirt, and more on them. These things can cause damage to your roof. You can clean your roof as you want to. Keep in mind that it will get dirty again. It may not be worth it to clean your roof too often. You should clean your roof every 18 to 36 months.
Consider these factors when deciding how often to clean your roof:
Shade. Certain things grow best without sunlight, making your roof dirtier.

Rainfall. Mold and algae are more likely to grow with more rain.

Foliage. Leaves and other foliage can cause damage. If you have a tree near your roof, your roof will be dirtier.
These factors can affect how often your roof needs to be cleaned. Be aware of these factors. Then, you can decide how often you need to clean your roof.
Why should you clean your roof? 
Over time, your roof will get dirty. It may have moss, algae, dirt, and more on it. You may want to clean your roof to help with the appearance of it. You should also clean your roof to decrease the rate of decay. Leaves, moss, and algae can eat away at your roof. Then, you will need to repair or replace your roof.
By cleaning your roof, you can prevent that decay. This extra effort will save you money. You will not have to pay to repair or replace your roof as often. Your roof will last longer if it's cleaned.
How to clean your roof 
The best choice is to call a professional. A professional knows how to clean your roof properly. They can look at your roof and select the best technique. They have experience and know what works. They can choose the solution for your needs.
Choose a trustworthy contractor. They should use the techniques of these two organizations: 
– the Asphalt Roofing Manufacturers Association 
– the Roof Cleaning Institute of America (RCIA). 
These groups are both against pressure washing. This is important in keeping your roof intact. If a contractor wants to pressure wash your roof, find another method or contractor. Not all contractors use best practices. 
If you want to clean your roof on your own, you should be cautious. Climbing on a ladder can be dangerous. Plus, washing your roof incorrectly can cause damage. Be sure to follow guidelines for washing your roof.
According to This Old House, you can use a 50/50 mix of water and bleach. Be sure to use low-pressure water. After washing the roof, rinse it with clean water. Before you start, you should wet your plants with clean water. Bleach can kill them. Then, once you are done, rinse the plants with clean water again.
How much does a roof cleaning cost?
According to Angie's List, it costs about $550 for roof cleaning. A roof cleaning takes two to five hours. This depends on the size of your roof and the condition it is in. The method can impact the length of the cleaning as well.
Having your roof cleaned professionally is cheaper than replacing your roof. By keeping up with roof cleanings, you can save a lot of money. Plus, you won't go through the trouble of a roof replacement.
Conclusion 
Before cleaning your roof, you should follow these guidelines. They will help you to clean your roof properly. It's not a good idea to pressure wash your roof. It will cause damage. There are other safer ways to clean your roof. Be sure to take care of your roof to keep it looking its best. If in doubt, call a professional.